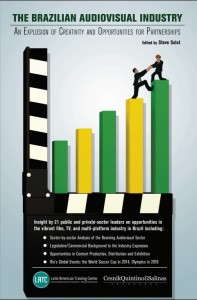 The book is available on Amazon.com. To purchase it now, click here.
The Latin American Training Center-LATC and the Cesnik, Quintino and Salinas Law Firm-CQS have joined forces to offer a unique, indispensable guide to current opportunities for partnership and investment in the vibrant Brazilian audiovisual industry. Brazil's growing prominence on the world stage as one of the BRIC countries has made it the economic and political center of global attention.The nation's long period of economic growth and stability, despite the recent modest slowdown, has virtually insulated the Brazilian economy against the global economic crisis.
The massive investment in infrastructure for the upcoming international mega-events, including World Catholic Youth Day (2013), the World Soccer Cup (2014) and Olympic Games (2016), is the backdrop for the audiovisual sector boom, boosted by a series of new federal laws and incentive programs. The audiovisual industry: Broadcast TV, Pay-TV, VOD, Internet and Wireless sectors are all benefiting from this convergence of positive elements, which has generated multiple opportunities for investors, sales agents, licensors, distributors and producers in all platforms. There has never been a more auspicious moment in the Brazilian multiplatform film and television production, distribution and exhibition business.
The positive climate for investment, innovation and partnership permeates each of the articles contributed by the selected professionals and government officials in their respective fields of expertise.
The Latin American Training Center-LATC is an audiovisual media training and consulting firm based in Rio de Janeiro, focused on the new generation of audiovisual content producers in Latin America.latamtrainingcenter.com
The Cesnik, Quintino and Salinas Law Firm based in São Paulo is specialized in business consulting and initiatives related to entertainment, culture, sports and non-profit organizations. www.cqs.adv.br
For more information, contact Fernanda Lima, fernanda.latc@gmail.com
ISBN 978-85-62268-03-8
Editor LATC
Language: English
Year: 2012