Organized by the Latin American Training Center-LATC, with the institutional support of the National Chamber of the Film Industry (CANACINE), the Mexican Association of Independent Producers (AMPI) and the Assistant Director Association of Mexico (ADsMex), the LATC Audiovisual Professional Skill Update Program for Mexico is a series of 10 online master classes (via Zoom) that will take place from September 13 to October 15.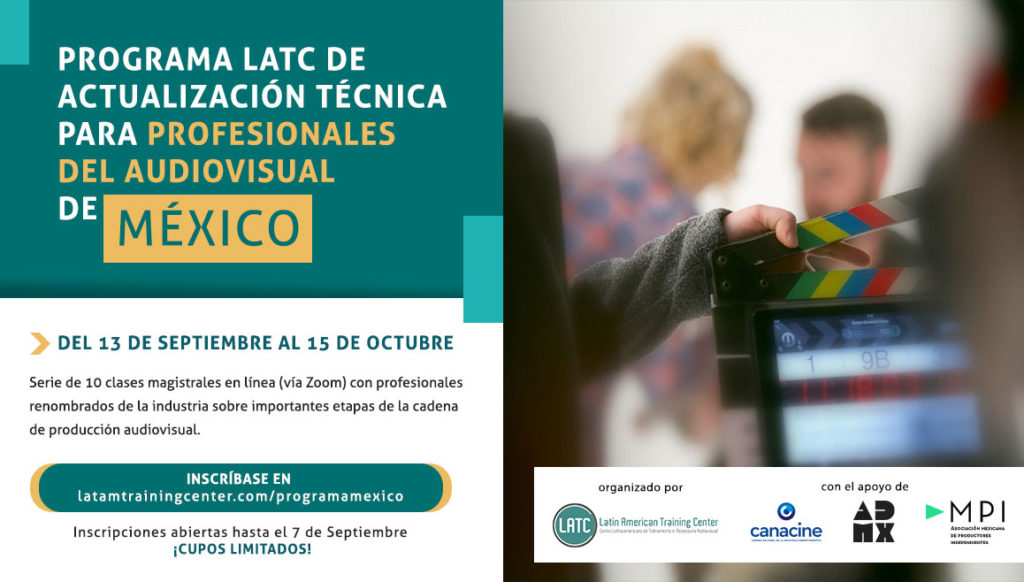 With the academic coordination of Tita Lombardo, a leading Mexican audiovisual producer, the Program is open to Mexican below-the-line, technical audiovisual professionals with previous experience, who wish to improve their knowledge, become acquainted with other AV industry areas, and receive valuable skills update to operate in this increasingly competitive and demanding sector.
The master classes will be taught by renowned industry professionals on the following areas of the audiovisual production chain: Locations Manager, Costume Design, Art Direction, Continuity, Data Manager/DIT, Line Producer, Production Manager, Music Supervision, Post-Production Supervision and Assistant Director.
Space is limited and registration is open until September 7. The total cost of the Program is MXN 200 for the entire program for residents of Mexico, allowing access to all 10 master classes, and includes a Certificate of Participation for those who attend at least 7 classes. For registration and more information, please visit the official website: latamtrainingcenter.com/programamexico.
Below is the full list of topics and their respective speakers:
September 13: Locations Management and Extraordinary Locations – Terry Fernandez
September 15: Telling stories through Costume Design – Mariestela Fernandez
September 22: Art Direction, a reflection – Ana Solares
September 27: Continuity, the unknown craft in cinema – Mariana Gironella
September 29: Data Manager/DIT – Jorge Vizzuett
October 4: Line Producer – Speaker to be confirmed
October 6: Production Manager – Iván Muñoz
October 11: Musical Supervision – Annette Fradera
October 13: Post-production, start at the end – Edgar Estrella
October 15: The Assistant Director as a strategic element in audiovisual production – Bernardo Jasso
This will be the fifth Program carried out by LATC in Latin America this year. Similar programs have already taken place with local partners in Brazil, Argentina and Colombia, in addition to a joint program for Bolivia, Ecuador and Peru, and one more is planned for Central America and the Caribbean by the end of the year.