Organized by the Latin American Training Center-LATC in partnership with the Bolivian Film and Audiovisual Development Agency (ADECINE), the Corporation of Audiovisual Producers and Promoters of Ecuador (COPAE) and the Association of Film Producers of Peru (APCP), the LATC Audiovisual Professional Skill Update Program for Bolivia, Ecuador and Peru is a series of 10 online master classes (via Zoom) that will take place from September 9 to October 12.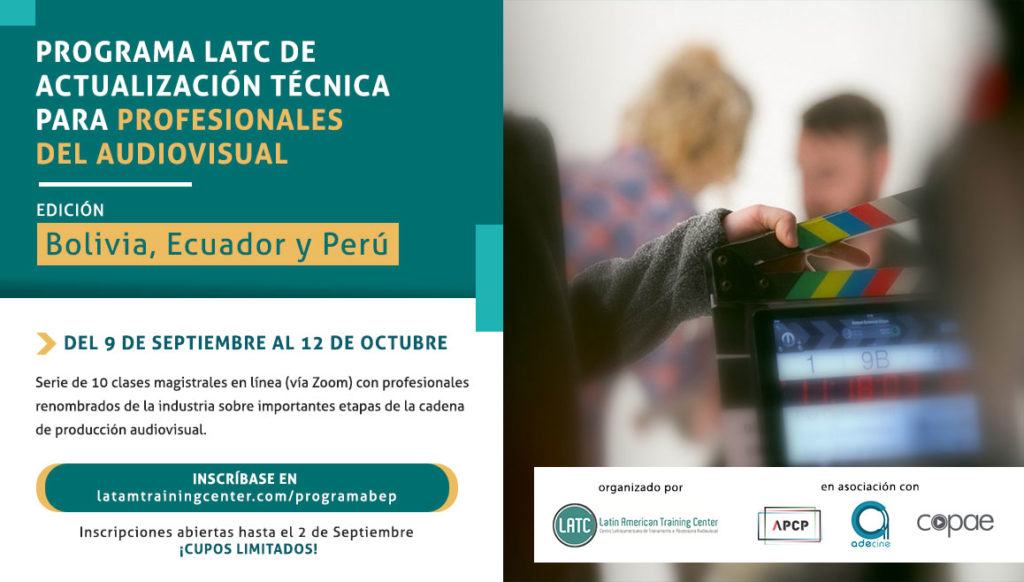 The Program is open to Bolivian, Ecuadorian and Peruvian below-the-line, technical audiovisual professionals with previous experience, who wish to improve their knowledge, become acquainted with other AV industry areas, and receive valuable skills update to operate in this increasingly competitive and demanding sector.
The master classes will be taught by renowned industry professionals on the following areas of the audiovisual production chain: unit production manager, assistant director, special effects, art direction/production design, makeup, continuity, gaffer lighting, sound (foley), data management – DIT, and trailer creation.
Space is limited and registration is open until September 2. The total cost of the Program is US$10 for the entire program for residents of Bolivia, Ecuador and Peru, allowing access to all 10 master classes, and includes a Certificate of Participation for those who attend at least 7 classes. For registration and more information, please visit the official website: latamtrainingcenter.com/programabep.
Below is the full list of topics and their respective speakers:
September 9: The Production Direction in the cinema, the importance of a good Line Producer in an audiovisual project – Norma Velasquez
September 14: Assistant Director – Nury Isasi
September 16: Special Effects – Stefano Beninati and Fabrizio Beninati – Frontier
September 17: Art Direction/Production Design – Roberto Frisone
September 23: Continuity, the unknown craft in cinema – Mariana Gironella
September 28: Gaffer lighting – Yvette Paz Soldán
September 30: Sound: Foley – Luis Bolivar
October 5: Data Management – Digital Imaging Technician (DIT) – Jorge Vizzuett
October 7: Makeup for special effects – Kantay Melgarejo
October 12: The marketing film trailer: the importance of this audiovisual tool in the commercial launch of a feature film – Nacho Soto – FIX Comunicación
The Program in Bolivia, Ecuador and Peru has the support of the Association of Ecuadorian Photographers, the Association of Audiovisual Advertising Producers of Ecuador (APAE), the Union of Audiovisual and Cinematographic Workers of Peru (SINCA), the Association of Documentalists of Ecuador (ADEC), and the Peruvian Filmmakers Union (UCP).
This will be the fourth Program carried out by LATC in Latin America throughout this year. Similar programs have already been organized with local partners in Brazil, Argentina and Colombia, and a program is still planned for this year in Mexico (September-October) and one in Central America and the Caribbean (November-December).