The Motion Picture Association has expanded its sponsorship of the LATC Online Global Film & TV Program, organized by the Latin American Training Center-LATC. The 12th edition of the program began on Monday, Oct. 18, and runs online through Oct. 30.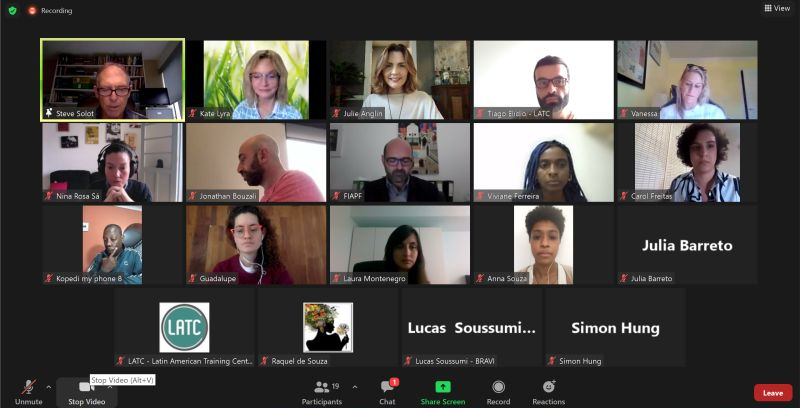 The LATC program enables industry professionals from around the world – including filmmakers, producers, screenwriters, media managers, government officials, attorneys and executives – to participate in an intensive agenda of meetings and panels on current U.S. film, television and entertainment industry topics.
The MPA team in the Asia-Pacific (APAC) region has participated in the program for the last eight years, as has the MPA team in Europe, the Middle East and Africa (EMEA). The MPA EMEA team this year is partnering with the International Federation of Film Producers' Associations (FIAPF) to sponsor one fellow from South Africa, after having previously sponsored participants from elsewhere in Africa and the Middle East. The MPA team in Latin America (LATAM), which supported the 2019 program with participants from Colombia and Mexico, has expanded its sponsorship this year to a total of eight fellows from Mexico, Brazil and Argentina.
"Latin America is rich in its diversity of voices, storytelling and creative talent and MPA LATAM is excited to be back with LATC this year," said Carla Sanchez Armas, Managing Director of Latin America for the Motion Picture Association. "Our eight stellar participants, who are directors, producers and executives from key territories, will be great spokespeople for the region's plurality and talent."
Belinda Lui, the MPA's President & Managing Director in Asia Pacific, said, "Over the years, MPA APAC has supported knowledge-sharing programs that bring together rising stars and established professionals. We are honored to have participated in the LATC program since 2012, and it's been a delight to watch winners from our many pitch competitions, workshops and film festivals around the region. The initiative has enhanced their careers, and several participants have gone on to create successful, exciting and diverse stories for the screen."
"Making great movies and shows depends on the hard work and passion of a wide array of people with different backgrounds, skills and pursuits. We are thrilled to once again support the presence of an African voice in this successful program," said Stan McCoy, President and Managing Director of EMEA for the Motion Picture Association.
Over two weeks, LATC program participants will learn, exchange experiences and network with well-known industry professionals, through panels, master classes, online meetings, pitching training, and the Pitch Panel, a unique opportunity for select participants to pitch live and receive feedback from Los Angeles-based industry experts. The program is designed for emerging filmmakers, as well as experienced professionals, who seek to update and expand their skills and prepare for creative work in the international market.
"We are grateful for the continued support of the MPA through many of its regional offices by sponsoring participants in our flagship above-the-line program from all corners of the globe, which complements our below-the-line technical training programs in seven countries," said LATC President Steve Solot. "We know that pipeline programs work and are the most direct way to infuse the workforce with fresh talent who wouldn't otherwise have the opportunity to learn and grow in our industry."
For more information, please visit: www.latamtrainingcenter.com/2021-online-global-program
About The Motion Picture Association:
The Motion Picture Association, Inc. (MPA) serves as the global voice and advocate of the motion picture, home video, and television industries. It works in every corner of the globe to advance the creative industry, protect its members' content across all screens, defend the creative and artistic freedoms of storytellers, and support innovative distribution models that bring an expansion of viewing choices to audiences around the world. Its member studios are: Walt Disney Studios Motion Pictures; Netflix, Inc.; Paramount Pictures Corporation; Sony Pictures Entertainment Inc.; Universal City Studios LLC; and Warner Bros. Entertainment Inc. Charles Rivkin is Chairman and CEO.