PUBLICATION ON FUNDING SOURCES FOR LATIN AMERICAN AUDIOVISUAL WORKS IS THE RESULT OF THE PARTNERSHIP OF LATC AND THE CASABLANCA GROUP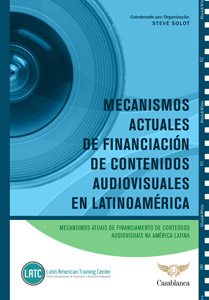 The LATC publication "Current Financing Mechanisms for Audiovisual Content in Latin America" (Mecanismos Actuales de Financiación de Contenidos Audiovisuales en Latinoamérica) is designed to aid professional producers throughout Latin America in seeking public and private-sector financing for their projects, and also to serve as a valuable resource on film industry finance for attorneys, investors, students and other professionals. The book was launched during the International Seminar on Audiovisual Funding Policies organized by Ancine, the Brazilian Federal Government Film Industry Regulatory Agency, on 28 and 29 at the Rio de Janeiro National History Museum, on the occasion of the annual meeting of CACI – Consortium of Iberoamerican Government Film Industry Authorities.
Prepared by experts from thirteen countries in Latin America, each chapter offers a detailed description of the public and private-sector financing mechanisms available for audiovisual project production and, where appropriate, distribution and exhibition of audiovisual content. In addition, the book contains references to relevant legislation and websites, and a brief biography and contact information of each author. The book also features a prologue by Manoel Rangel, President of Ancine, the Brazilian Federal Government Film Industry Regulatory Agency and Executive Secretary of CACI.
Countries included in the publication are: Argentina, Bolivia, Brasil, Chile, Colombia, Cuba, Ecuador, Mexico, Peru, Puerto Rico, Dominican Republic, Uruguay and Venezuela. In order to preserve their accuracy, the articles are provided only in the original language of the author.
According to Steve Solot, LATC President and Coordinator of the new collection of articles, this second LATC publication offers a new resource for audiovisual content producers in Latin America seeking funding from public and private funds for projects in both traditional and new media platforms. It also serves to further LATC goals of expanding national film industries, promoting cultural diversity and advancing the collaborative nature of film production in the globalized – and digititalized – audiovisual market.
Publication data:
Publisher: LATC | Year of publication: 2011 | ISBN: 978-85-62268-02-1328
For further information on this and other LATC publications: contactlatc@gmail.com
For further information on Casablanca Group see: casablancacontent.com
For free download of the publication, please, click here.