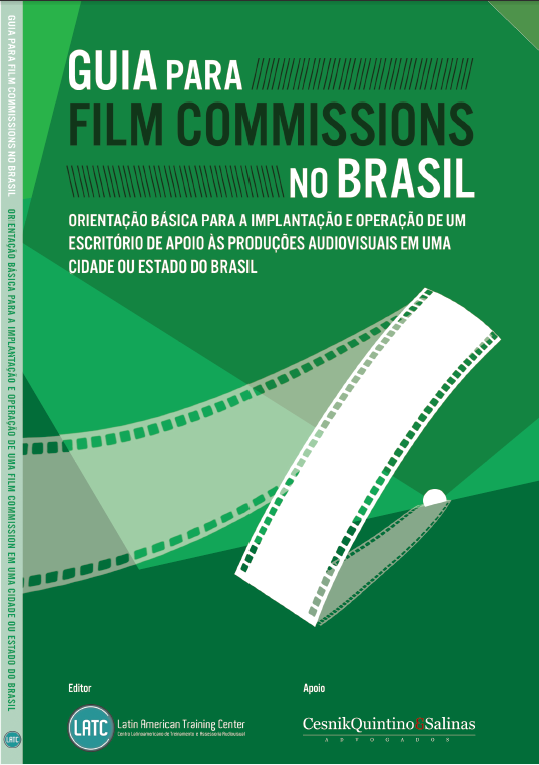 For Free Download of the Guide, available only in Portuguese, please, click here!
Published by the Latin American Training Center-LATC (Centro Latino-americano de Treinamento e Assessoria Audiovisual), with support by the Cesnik, Quintino e Salinas law firm, the new Guide for Brazilian Film Commissions offers, for the first time in Portuguese and specifically for Brasil, basic information and recommendations to effectively establish and operate a film commission at the municipal or state level anywhere in Brazil.
Prepared for multiple audiences, including government officials, film producers, politicians, and managers, the Guide is appropriate for the design and planning for creation of a new film commission, as well as to administer and improve existing film commissions in Brazil.
Divided into two sections, the Guide consists of 10 chapters and 6 articles prepared by well-known authorities on the subject. The first section provides detailed orientation on the creation, structure, administration and operation of a film commission in Brazil. The second section is a collection of articles by some of the most important and relevant national and international personalities on the subject of film commissions, including Jean Prewitt, President of the Independent Film and Television Alliance-IFTA, the most important association of independent film producers in the US.; Kevin Clark, Executive Director of the Association of Film Commissioners International-AFCI, the global film commission association based in Los Angeles; Stefania Ippoliti, President of the Italian Film Commission Association; and Leonardo Monteiro de Barros, partner of Conspiração Filmes in Rio de Janeiro.
Support provided by:
Cesnik, Quintino & Salinas Advogados – CQS: Brazilian Law firm specialzed in the entertainment industry, with offices in Rio de Janeiro, São Paulo and Brasília. www.cqs.adv.br.
Published by:
Latin American Training Center-LATC: A regional audiovisual training and consulting firm based in Rio de Janeiro, focused on the new generation of audivisual content producers in Latin America.
Contact:
Fernanda Lima, LATC Project Coordinator: fernanda.latc@gmail.com