Edited by Maria Delgado, Stephen M. Hart and Randal Johnson, A Companion to Latin American Cinema offers a wide-ranging collection of newly commissioned essays and interviews that explore the ways in which Latin American cinema has established itself on the international film scene in the twenty-first century. Contributors include filmmakers, critics, historians, scholars, and executives from the U.S., Europe, and Latin America. Among them, Steve Solot, President of LATC.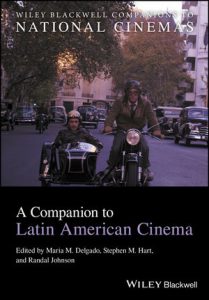 "Audiovisual Sector Fiscal Incentives and Public Policy in Latin America" is the title of the chapter written by Solot, which presents an overview of the spectrum of funding mechanisms applied in selected Latin American in recent years. Based on an assessment of the trends and evidence, the article shows the efficacy of the most important mechanisms as tools for achieving stated public policy objectives.
The book is available on Amazon at A Companion to Latin American Cinema as well as on the Wiley Blackwell website, with a 20% discount using the code HAF17 at Wiley Blackwell.