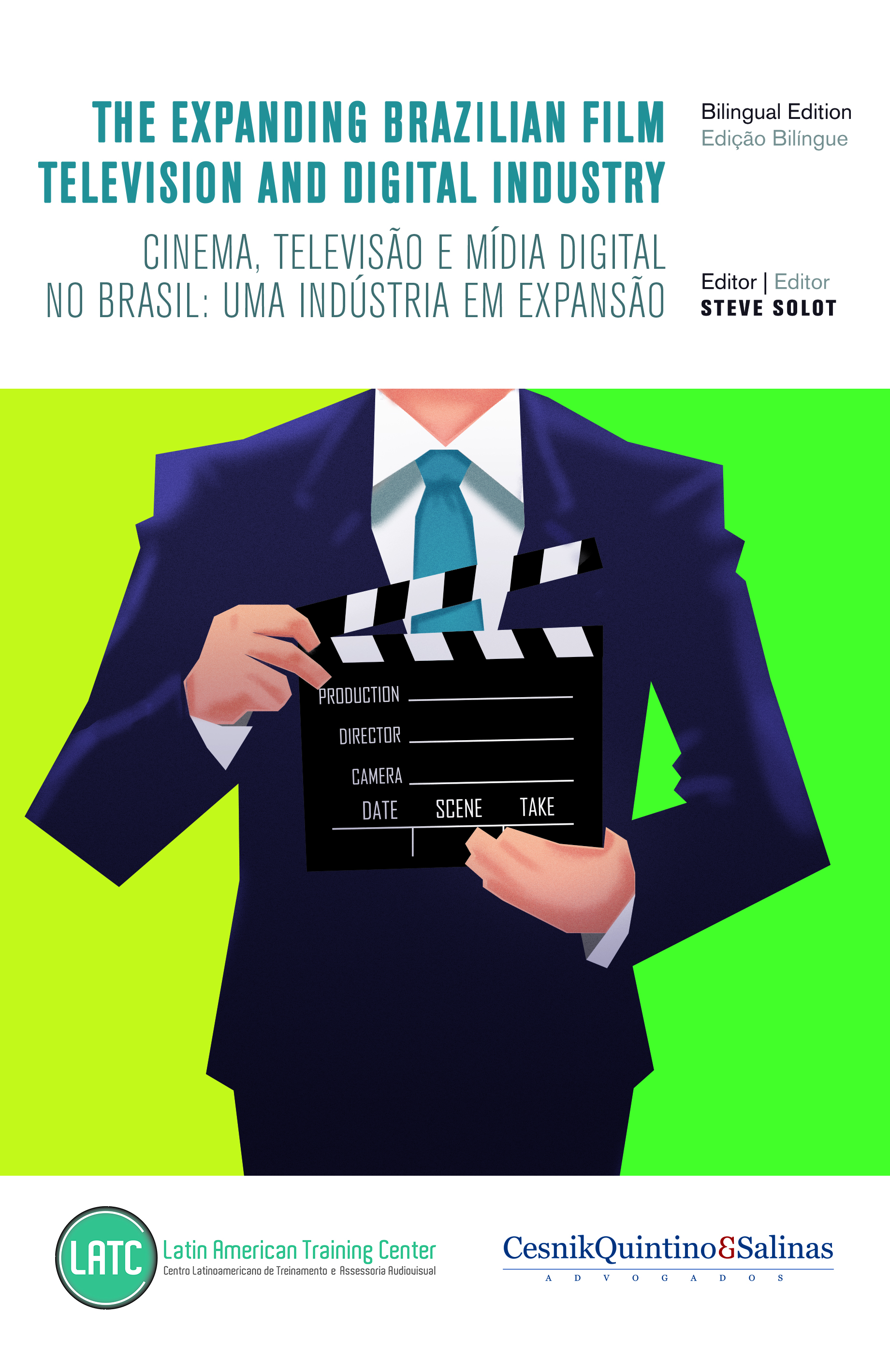 THE COLLECTION OF ESSAYS BY INDUSTRY LEADERS
LATC-The Latin American Training Center and the Cesnik, Quintino & Salinas Law Firm announced on March 9, 2016, The Expanding Brazilian Film, Television and Digital Industry/Cinema, televisão e mídia digital no Brasil: uma indústria em expansão, a publication made possible by the support of RioFilme, Spcine and the Brazilian Association of Independent Television Producers (ABPITV).
A compilation of essays and articles by important leaders in the Brazilian audiovisual industry, the book offers a panorama of the Brazilian market, including topics such as investment opportunities, content licensing, partnerships and co-productions.
Organized by Steve Solot (LATC) e Fábio Cesnik (CQS), the book includes articles authored by Manoel Rangel (Ancine); Pola Ribeiro (SAv-MinC); Mariana Ribas (RioFilme); Paulo Sérgio Almeida (FilmeB); André Mermelstein (TelaViva); Luciane Gorgulho (BNDES); Alfredo Manevy (Spcine); and Marco Altberg (ABPITV), among others.
1st Edition | 212 p. | 23×15,5cm | 330 gr. |
ISBNs: 978-85-62268-15-1 (papel) | 978-85-62268-16-8 (E-book)
It's available on Amazon.com.
TABLE OF CONTENTS:
Introduction/ Introdução
Steve Solot, President/ Presidente, LATC – Latin American Training Center
Fábio Cesnik, Partner/ Sócio, Cesnik, Quintino and Salinas Law Firm
Preface/ Prefácio I
Mariana Ribas, President-Director/ Diretora-presidente, RioFilme
Preface/ Prefácio II
Alfredo Manevy, President-Director/ Diretor-presidente, Spcine
Doing Business and Partnering in Brazil
Fazendo negócios e parcerias no Brasil
Anderson Ramires, Partner/ Sócio, Gardenia Rogatto, Senior Manager/ Gerente Sênior
PricewaterhouseCoopers Brazil
A new age in Brazilian film
Cinema no Brasil entra em nova era
Paulo Sérgio Almeida, Director/ Diretor, FilmeB
The Audiovisual Industry in Brazil: Strategies, Achievements and Challenges
Estratégias, conquistas e desafios do audiovisual brasileiro
Manoel Rangel, President-Director/ Diretor-presidente
National Cinema Regulatory Agency/ Agência Nacional de Cinema – ANCINE
New Directions in the Public Sector for Expansion of Audiovisual Activities
Novas direções do setor público para a expansão das atividades audiovisuais
Pola Ribeiro, Secretary of Audiovisual Affairs/ Secretário do Audiovisual – SAv
Ministry of Culture/ Ministério da Cultura – MinC
Funding for the Brazilian audiovisual market: New regulatory paradigms
Financiamento do mercado audiovisual brasileiro: novos paradigmas regulatórios
Fábio Cesnik, Rodrigo Salinas, Gilberto Toscano and Roberto Jucá, Partners/ Sócios
Cesnik, Quintino and Salinas
The BNDES and Support for Brazil's Audiovisual Sector
O BNDES e o apoio ao setor audiovisual brasileiro
Luciane Gorgulho, Head of the Culture Economy Departament/ Chefe do Departamento de Economia da Cultura, Brazilian Development Bank/ Banco Nacional de Desenvolvimento Econômico e Social – BNDES
Pay TV in Brazil: Opportunities and Threats
TV por assinatura no Brasil: oportunidades e desafios
André Mermelstein, Editor, Telaviva
Broadcast Television and the Model for Co-production of Brazilian Films
A televisão aberta e o modelo de coprodução do cinema brasileiro
Nelson Hoineff, President/ Presidente
Instituto de Estudos de Televisão – IETV
Brazilian Independent Television Production and the Multi-platform Industry
A produção brasileira independente para televisão e a indústria multiplataforma
Marco Altberg, President/ Presidente
Brazilian Independent Television Producers Association/Associação Brasileira de Produtores Independentes de Televisão – ABPITV
The Advertising Market in Brazil: APRO and FILMBRAZIL
O mercado de publicidade no Brasil: APRO e FILMBRAZIL
Paulo Schmidt, President/ Presidente Brazilian Association of Audiovisual Production/
Associação Brasileira da Produção de Obras Audiovisuais – APRO
Diversity of Talent in the Brazilian Audiovisual Industry
Diversidade de talentos na indústria audiovisual brasileira
Denise Del Cueto, Partner/ Sócia, DelCast
Digital Distribution and VOD in Brazil
Distribuição digital e VOD no Brasil
Fabio Lima, Executive Director/ Diretor Executivo, Sofa Digital
Theatrical Distribution in Brazil
Distribuição cinematográfica no Brasil
Wilson Feitosa, Diretor e Fundador/ Director and Founder, Europa Filmes
São Paulo as an Audiovisual Hub
O audiovisual e a vocação de São Paulo
Alfredo Manevy, President-Director/ Diretor-presidente, Spcine
RioFilme: the Development of Rio's Audiovisual Industry
RioFilme: o desenvolvimento da indústria audiovisual no Rio de Janeiro
Mariana Ribas, President-Director/ Diretora-presidente, RioFilme
Rio's Opportunity for Expansion, Investment and Creation of Industry Hubs
Rio: Oportunidade de expansão, investimento e criação de polos econômicos
Marcelo Haddad, Executive Director/ Diretor Executivo, Rio Negócios
The Rio Film Commission and Filming in Rio de Janeiro
A Rio Film Commission e as Filmagens no Rio de Janeiro
Steve Solot, President/ Presidente, Rio Film Commission
ORGANIZERS:
LATC – Latin American Training Center latamtrainingcenter.com
LATC is a media training and consulting firm based in Rio de Janeiro, focused on the new generation of audiovisual content producers. In addition to organizing technical training courses and workshops for professional filmmakers throughout Latin America, it offers a broad range of technical consulting services for content producers, film commissions, film festivals and other industry players, as well international representation, "project packaging" and related services in specific audiovisual, fiscal incentive and co-production areas. LATC is affiliated with: CILECT – Centre International de Liaison des Écoles of Cinéma et de Télévision (Brussels); IFTA – Independent Film & Television Alliance (Los Angeles); IFP – Independent Filmmaker Project (NY); NALIP – National Association of Latino Independent Producers (Los Angeles), the Americas Film Conservancy (Los Angeles); EGEDA-Entidad de Gestión de Derechos de los Productores Audiovisuales (Madrid), Creative Projects Group (Los Angeles), and Cowan, DeBaets, Abrahams & Shepard (NY), among others.
Cesnik, Quintino & Salinas www.cqs.adv.br
The Cesnik, Quintino and Salinas Law Firm is among the most highly-respected law firms of Brazil, with acknowledged excellence in planning, structuring and implementing business in the cultural, entertainment and non-profit sectors. With offices in São Paulo, Rio de Janeiro, Brasília and Los Angeles, its attorneys combine a thorough knowledge of the regulatory environment with a deep understanding of market conditions to offer their clients comprehensive solutions, legally solid and innovate responses, according to the their needs, in order to aid them in management of their business in an ethical and efficient manner. Due to the dedication, talent and entrepreneurship of the law firm, for the last five years, it is ranked number one for the Entertainment Sector among Latin American law firms by the leading law firm guide, Chambers and Partners.
SPONSORS:
RioFilme www.rio.rj.gov.br/web/riofilme
RioFilme is a company associated with the Department of Culture, created in 1992 to promote Rio's audiovisual sector, considering the various links of its value chain. RioFilme supports the development, production, distribution and exhibition of audiovisual content; invests in film, television and the new media; sponsors industry events; and promotes initiatives in accessibility and job training. It stimulates Brazilian cultural production and generates jobs and revenue, with resulting social and economic impacts on small, medium and large market players and on the population of Rio de Janeiro. RioFilme's main objective is to consolidate the city as a major center of audiovisual activity in Latin America.
Spcine https://spcine.wordpress.com
Officially opened on January 2015, Spcine is São Paulo's film and audiovisual company. It acts as an office for the development, financing and implementation of programs and policies concerning film, television, video games and the Web. One of its missions is to foster the economic and creative potential of São Paulo's audiovisual industry and its cultural and social impact. Created in response to a strong demand from the industry, Spcine has the City of São Paulo, through its Municipal Department of Culture, as majority shareholder, and has partnerships with the Ministry of Culture through Ancine (National Film Agency) and the State Government of São Paulo. The company operates in three main areas of activity: innovation, economic development and internationalization. These areas converge on a common goal: to make São Paulo a major national and international center of audiovisual activity.
INSTITUTIONAL SUPPORT:
Associação Brasileira de Produtores Independentes de Televisão – ABPITV www.abpitv.com.br
ABPITV is a nonprofit organization founded in 1999 in order to bring together and strengthen companies focused on producing content for television and new media for the national and international markets. Today ABPITV has more than 600 associates from the five regions of Brazil, supporting them through projects with specific aims, such as exports, training, public policies for the industry, and development of the domestic market. Its main goals are to foster the development of the Brazilian audiovisual market, to represent the industry in various discussion forums, to encourage production and new business models, to analyze and encourage use of the legislation concerning the industry by actively participating in its regulations and changes; to provide training to producers and to support the work of Brazilian entrepreneurs in the international market through actions and projects of Brazilian TV Producers.
For more information contact Fernanda Lima, fernanda.latc@gmail.com.