On the occasion of LATINX 2021, the Latin American Screenplay Treatment Competition organized by the Latin American Training Center, which this year has as its theme the "Latin American Diversity", the LATC presents its next free webinar in Spanish (without simultaneous translation), "Diverse and representative narratives in the Latin American audiovisual industry", which will be held next Thursday, May 27, with four professionals from the region. To register, click here.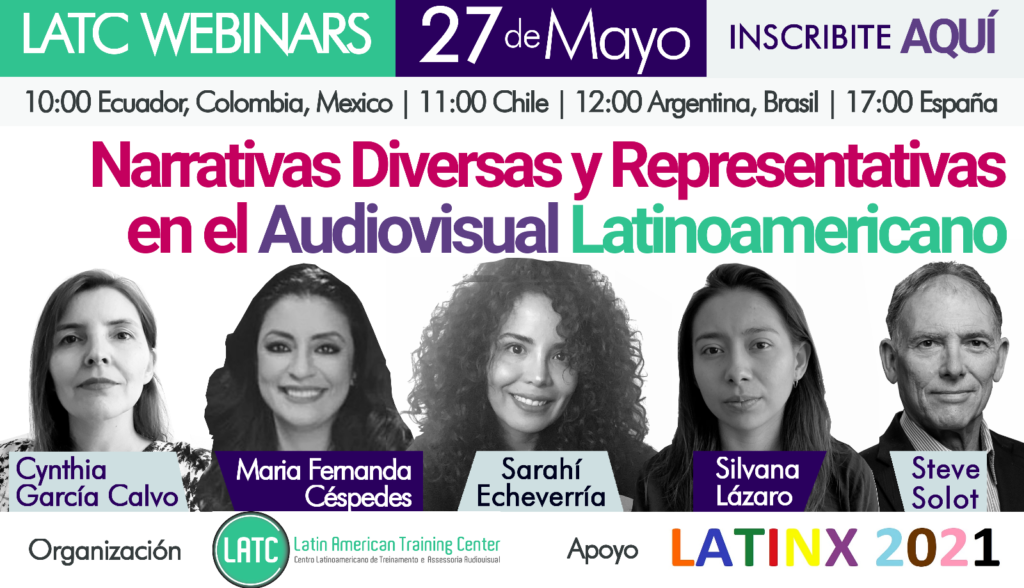 The panel will feature Cynthia García Calvo, Director of Programming of FEMCINE and AMOR Festival, Maria Fernanda Céspedes, General Director of FIACINE (the Iberoamerican Federation of Film Arts and Science Academies), Sarahí Echeverría, Producer and Director from Ecuador, winner of LATINX 2019, and Silvana Lázaro, Mexican filmmaker, jury member of LATINX 2021.
The event will be streamed live in Spanish (without simultaneous translation) through Zoom, at 10am (Ecuador | Mexico | Colombia) | 11am (Chile) | 12pm (Argentina | Brasil) | 5pm (Spain). It will be moderated by Steve Solot, President, Latin American Training Center-LATC. All participants will receive a digital certificate from LATC. Space limited.
The LATINX is LATC's traditional annual screenplay treatment competition, part of our continuing policy to support screenwriting in Latin America, foster artistic creation and encourage novice screenwriters in the highly competitive audiovisual industry. It has the support of the Brazilian Forum for the Teaching of Cinema and Audiovisual Studies (Forcine), Final Draft screenwriting software, and LatAmcinema.com.
This is the fourth webinar organized by the LATC. The previous three are available on our YouTube channel:
– Post-COVID AV Public Policy Challenges in Latin America, with Jonathan Olsberg, Executive Chair, Olsberg•SPI, Alexander Cuntz, Head of the Creative Economy Section, World Intellectual Property Organization – WIPO, Silvia Echeverri, Colombia Film Commissioner and Board Member, Latin American & Caribbean Film Commission Network – LAFCN, and Giancarlo Nasi, Vice President, Ibero-American Federation of Academies of the Cinematographic Arts and Sciences – FIACINE.
– Industrias Creativas Latinoamericanas y el Poder de la Economía Naranja (in Spanish), with Enrique Avogadro, Minister of Culture of the City of Buenos Aires-Argentina, Felipe Buitrago, Minister of Culture, Colombia, Trinidad Zaldívar, Chief of Creativity and Culture Unit, Inter-american Development Bank-IDB, and Marcelo Ortega, President, FILMANDES Audiovisual Cluster, Mendoza-Argentina.
– Os desafios da regulação do streaming no Brasil (in Portuguese), with Vera Zaverucha, Brazilian Audiovisual Legislative Consultant, Eduardo Senna, Lawyer and Cofounder, Latin Rights, Fábio Lima, Founder & CEO, Sofa Digital, and Mauro Garcia, Executive President, BRAVI.